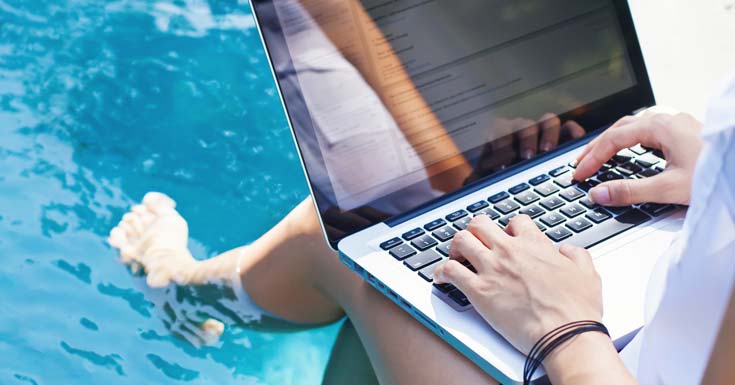 Posted by Pooltrackr 19th September 2016
An informative and captivating website is the cornerstone of your pool servicing business — it houses important information, and your customers expect you to have one.
If you don't have one, you will be losing potential customers as they decide to use a competitor who does. And you won't even know it!
You might think you don't have the time, knowledge or resources to set up and maintain a website, but it's easy to take a DIY approach or find someone to help you – and the benefits greatly outweigh the effort required.
Sure, it's a smart idea to set up and publish regular content through your company Facebook page, maintain your Google My Business listing and be included on other business directories, but your own website is your time to shine.
You have 100% control over the content and it gives you centre stage to promote your services and your brand story – how you got to where you are today, and the people behind your business.
Define your goals
Before you get started, let's go back to basics:
Why do you want to build a website? You could choose to simply advertise your services, giving potential customers a 'menu' of what you offer, and a bit of information on why visitors should choose your pool maintenance business. Maybe you also want to update customers with news about the company? Do you want to become a thought leader in your industry and start a blog?
Who are you targeting? Defining your target audience will help you to develop your branding and tone of voice. It also helps to put your customer front of mind when designing pages and calls to action. What will they be looking for, and how can you best present that information to them?
What are you going to measure / track through your website analytics to see if it's achieving those goals? Setting up Google Analytics is a useful way to see how much traffic you're getting and where it is coming from, as well as how long people are spending on your pages (the longer the better!). If you decide to use a CMS (content management system) like WordPress, you can see statistics about your website visitors from the admin dashboard.
Research
Which websites have you been impressed by lately? Make note of any websites that you are inspired by – they don't necessarily have to be within the pool and spa industry.
It goes without saying that you shouldn't copy what other businesses are doing, but noting down styles, layouts and effective calls to action that you would like to use for your pool business website is helpful – especially if you decide to work with a professional who will want to interpret your requirements accurately.
You can use our FREE website design brief template [Download PDF] or make a list with comments on which aspects you like that you can share with your designer or your team.
Decide on your approach
Hire a professional
If you have some budget, hiring a website designer will ensure the process runs smoothly and the end result looks polished.
You can do a quick search for agencies and freelance website designers online; you'll be able to see other work they've done, and pick some styles that you want for your own website.
You might also like to post an update to your LinkedIn network, in case you know a website designer who can help you.
The other option is to post on Upwork, Freelancer or Cloudpeeps,where freelancers can pitch to help you on your project. It depends on how much budget you have, and which approach you are most comfortable with.
We've created a website design brief template which you can fill in to communicate your requirements to an expert. You could also use this as a planning resource for yourself, to make sure you include everything you want in your new or improved website.
FREE Download: Pooltrackr Website briefing Template
Do-it-yourself!
Websites like WordPress and Wix give you simple tools to create your own website, you can use a free domain but it's always best to buy your domain.
Not only does it look much more professional, but it's easier to find when people search for your services. You can purchase your domain simply through WordPress, or buy it on a 3rd party website such as GoDaddy and follow the instructions so that your domain points to your website.
What's your story?
Put simply, your story is how you got to where you are today, which problems your business is trying to solve (and how), intertwined with a bit about the unique and special people who make your pool servicing business what it is!
Storytelling has become a recognised way to position your business ahead of others by bringing your brand to life through content. Over time, people have connected through stories and this is how they identify with others. In business by showing the people behind your business, you will create deeper connections with your customers— this will make your business memorable and give you a competitive advantage.
Read more: Why our brains crave storytelling in marketing
You'll need to ask yourself a few questions first. What motivates you? How did you get into business? What are your goals, motivations and core values?
What sets you apart from your competitors? You can bring your story to life with plenty of photos and add your personality into any content you produce. Which brings us to the next point….
Clarify your messaging
Your brand and tone of voice are important to identify who you are and give an impression of how you operate to your existing potential customers.
You should decide on this before you get started with your website. Establishing your tone of voice is a key part of achieving consistency across all your communications – content, logos, branding and social media. It also gives you a central reference point for anyone who takes over your marketing – if you hire an extra person for example, they will understand not to publish social media content and blog posts that don't sound like they came from you.
Read more: 5 easy steps to define your tone of voice
Put your customer first, but think about your values and what your company represents. For example, you might choose to use happy colours like yellow and green to show your customers you are friendly and approachable, rather than something brash like orange or pink.
Typically, you'd want to use friendly and approachable language which would reflect the way your pool techs interact with your customers. However, don't be afraid to add personality to your content with lighthearted humour if this is appropriate to the way you run your pool business.
Get social
Make sure you add prominent icons on your website homepage, and contact pages that lead to any social profiles you're actively using to promote your pool business.
At a minimum, include a Facebook page icon – many visitors will head over to see if you have any customer reviews, and might also use it as a way to ask any questions about your service offerings through a comment or Facebook page message.
Driving your website visitors to like your pool business's Facebook page also has longer term benefits. It gives you another touchpoint to reach your potential and existing customers, and a way to advertise services, photos of your projects and any special offers to drive ongoing business.
Make it easy to say hello
The easier it is for your website visitors to contact you, the more likely you are to make sales! So don't hide your contact details on a page. Include clear calls to action from the homepage and give a few different options to contact you – phone number, e-mail and even embed a contact form if you wish.
Live chat within a website is an option growing in popularity; customers are beginning to expect instant answers, so you might want to look into integrating software like Live Chat or FreshDesk if you have staff working from an office who are available to chat to website visitors in real-time.
Social media is another way to offer real-time support, and if you choose to do this make it obvious and easy for your customers to contact you in this way from the homepage.
SEO (search engine optimisation)
Learn some of the SEO basics that you can apply to your website as you publish content. Google has a beginner's guide to SEO that is a great starting point.
Keywords in SEO are particular words or phrases that describe the contents of a Web page. This might be 'pool business', 'pool servicing business' or similar.
Read more: 4 Helpful Tools for Identifying the Right Keywords
If you have your primary keyword in your domain then chances are high for getting the first position in search engines for the reserved keyword.
Keywords in domain names help search engines' crawlers to find relevant pages on the same website easily – increasing where you appear in the search results.
But most importantly you should aim to create original content on all pages of your blog. And if you're blogging, include your keywords but only when they're relevant to the flow of your piece. Google's algorithm can recognise if you're dropping these in where they aren't a natural fit.
Video content also seems to improve SEO, so why not include an engaging video in your content? It could be as simple as a how-to video you can create on your iPhone. More brands are in fact shooting video content on their iPhones, so you don't need fancy equipment to make an impact.
Promote your new website.
When you finally hit 'publish' and your website is live, it feels satisfying, but it's not over! It will take a while to appear in the search engine listings, but the best thing you can do is add your URL to any business listings such as Google My Business, Yellow Pages, Yelp etc, your Facebook, LinkedIn company page and personal profile.
You might also want to consider the following:
Business cards – create new business cards in your latest branding with email, social and website information
Banners and Flyers – if you have a store, you could create some bright new banners and flyers for people to see and take away when they visit
Vehicle signage – this is a powerful way to promote your website when you're out on the road, you'll get a lot of exposure in the local neighbourhood
Newspaper ad – it's an oldie but a goodie!
Paid Facebook ad – select the 'drive people to your website' option from within Facebook ads manager
What now?
Publishing regular content is beneficial, and keeping information up-to-date and relevant for your customers is essential.
Make a point of keeping on top of your WordPress stats, or Google Analytics to see how visitors behave when they come to your site. This data is invaluable – you can find out which pages to place important information based on where your visitors are spending the most time.
There are lots of stats you can keep an eye on, but the number of visitors and your top visited pages will let you know how things are tracking on a basic level.
Do you have a high bounce rate? A "bounce" is when someone visits your site and immediately clicks the back button or closes their browser tab. The aim is to reduce this as much as you can – so you might want to add more content to hold their attention for longer or include links to other pages within your site.
Read more: Google Analytics Get Started Guide
Having a professional looking website might take some time and money, but it is one of your main sales channels and is sure to keep you ahead of the competition.