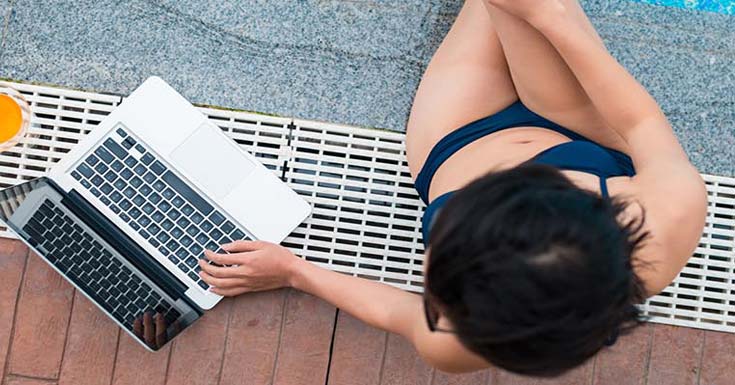 Posted by Pooltrackr 21st August 2016
Tonight you decide it's time to take your other half out for dinner, it's been a while after all.
But then comes the difficult question: where to eat? You live in a suburb with plenty of choices. Once you decide on the type of food you want, which restaurant should you choose?
Like many others, you probably check out restaurants on Facebook. Maybe to see if they have a five-star rating, or if anyone has recently complained.
Or maybe you head to TripAdvisor to see what the top reviewed restaurant in your area is for some tried and trusted info on where to go.
It doesn't matter whether you're looking for pool technicians, restaurants or someone to design a new website: reviews, ratings and testimonials are everywhere.
The fact is, people trust the word of other people more than they do businesses.
A recent study by Reevoo found that 70% of consumers place peer recommendations and reviews above professionally written content.
This is proof of three things:
It's never been more important to keep your customers happy with a high level of customer service
You can't afford to ignore online reviews and customer testimonials
You will benefit from including this type of 'user-generated content' in your business marketing strategy
Are your customers happy?
The most thing is making sure that you are providing great customer service and offering reasonable solutions to any issues or obstacles that arise.
With the increasing popularity of online reviews, it's more important than ever. Companies are under the microscope; customers are more likely to leave bad ratings and reviews for companies they have had bad experiences with. Others will even blog about it!
Turn the bad into good
Some of the worst customer experiences have ended up being the best for brands—big and small—who went the extra mile to try and rectify the mistake. And the great thing about public reviews and customer surveys is that it gives you visibility on what is being said, and a chance to respond to their comments—both good and bad.
How to gather customer testimonials and reviews
Now you've been putting in extra effort and providing a great service to your customers, how do you go about showcasing this to the world?
Send an email your customers and ask them outright if they can give you a few lines to include on your website about their experience with your business. If you prefer to direct them elsewhere, you can also encourage them to visit your Facebook page or Google My Business page to leave a review.
Add a link to your email signature sending customers to fill out a survey and/or leave a review on Facebook and Google My Business. Google Forms, Survey Monkey and Wufoo are our favourite survey building tools.
Use purpose-built customer satisfaction software such as Customer Thermometer or CustomerSure
Tip: Make sure you include a tick box where customers approve the use of any content for marketing purposes so you can include it on your website.
Tip: Put any customer Testimonials that you collect on important pages. Don't just put testimonials on a Testimonials page where many of your site visitors may not see them. List one or two pages that explain about your business and the services you offer.
Focus on Facebook
Facebook is used widely by people of all ages, so it's not surprising that many people will check here first to see what others are saying about your pool servicing business.
It's wise to check your page regularly and respond to ratings in the same way you would comments and messages.
You can't afford to ignore the potential that Facebook has to promote your business. In terms of growth in reviews, research has shown Facebook now outperforms all the other sites, 'producing reviews at a pace 4 times faster than runner-up TripAdvisor. Google and Yelp ranked third and fourth, respectively.'
Enable the review function by first confirming your page is listed in the 'Local business' category (you can also change this if it's not – see below, under the 'About' tab) and has all company information included.
You should always direct your customers to your Facebook page wherever possible. Make sure you add social icons to your website homepage, and your email signature to make it easy for them to find you.
Other review websites to consider
There are a few other places you can regularly check and direct your customers to leave reviews for your business.
The main Australian review site for businesses aside from Facebook is Google My Business – it's really good for your SEO (search engine optimisation), or how high you display in search engine listings, to include as many details on here as you can to make sure potential customers get the right info when they search for you.
Tip: Once you get six 5-star reviews on your Google My Business page this will make the average star rating show up on the page instead of just the number of reviews.
Google My Business requires a Google Account in order to post a review. Not everyone will have a Google Account, and those who don't, may not want to set one up just to submit a review. You can suggest other alternatives for those customers:
It's also a good idea to monitor these to see if people independently leave reviews on your business that you can reply to or learn from.
Loyal customers are your best salespeople
You might be great at promoting the services your pool business offers, but the truth is your loyal customers are your best salespeople! These are people who are not being paid to promote your business, but they do because they honestly and genuinely believe you offer a great service. Pay attention to these customers – and always show your appreciation of their business.
Did someone leave you a 5-star rating on Facebook or a great website testimonial? Why not send them a thank you gift or give them a discount off their next pool service.
What to do now?
Hopefully, we've helped you understand the importance of online reviews and testimonials, what you should be following and how you can use them to market your business and improve your customer service.
If you're starting from scratch, you can follow this checklist to review and kick start your testimonial strategy:
Make sure your Facebook page is up-to-date and in the correct category for reviews (local business)
Reply or respond to any existing reviews and comments
Complete your Google My Business Page and see if there are any reviews on there
Search for your business in:

And remember to check the details are correct and up-to-date on each listing.

Add your Facebook page URL into your email signature encouraging people to visit your page and leave a review
Consider asking your existing customers for testimonials, and which method you will use (see above: How to gather customer testimonials and reviews)
Keep delivering awesome customer service!
Good luck! Are you doing anything we've not covered in our post to keep your customers happy and the great reviews flowing? Let us know on the Pooltrackr Facebook page
About Pooltrackr

Pooltrackr is a business management app designed specifically for pool shops and pool technicians.